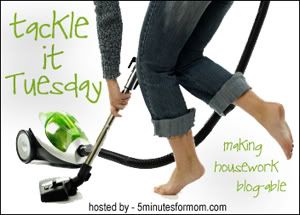 Wow, it has been FOREVER since I tackled, but I did it, I feel wonderful, and I am so proud of the work I did. So join me for a well deserved cup of coffee, and enjoy my mayhem & foolishness.


Today I tackled my master bedroom suite. I have not cleaned my bedroom since Bobby left for Afghanistan, at the end of February! GROSS!! I have however cleaned my bathroom weekly. So yeah, it was horrible. I am sharing a room with my sweet 3 month old, so the room is pretty cramped. I took the before pictures at 2am this morning, because I knew I would not be motivated to tackle the room today if I waited until after I went to bed (I wasn't) so that is why I have day & night shots. It took me about 3 hours to tackle these rooms.




Here is the changing table before & after. I designed this using a chrome shelving unit, baskets, and a changing table pad. I love it, and it all can be re-purposed later when he grows up.




His side of the bed before, and after.




My side of the bed (with a sleeping Liam), before, and after. Somehow I guess I either didn't photograph, or upload the box of cords & miscellaneous crap piled between the shelf and night stand. Now that the co-sleeper is gone, I probably should switch the bookshelf and night stand back. I didn't think of that until just now. I had switched them out before Liam was born so I could have him in the co-sleeper next to my bed, which he hated.




My dresser, before and after.




Liam's crib.




Ah, bliss, here is a full room shot. It feels like a sanctuary once again.

And finally:



The sink portion of my master bedroom. I just recently cleaned the shower and toilet side of the bathroom, so I didn't take before/after pictures of it.

So there you have it. Probably the thing I am most proud of are things you can't see. I dusted the tops of everything, the ceiling fan, the blinds, the back of the TV. I cleaned under every dresser, nightstand, shelf, and under the beds. I vacuumed the top of my bed rails, the mattresses, Liam's sheep skin, in the closet.

I hope you enjoyed this post. I am going to drink a million more cups of coffee, fold diapers, and wait for the chinese I ordered to be delivered while watching a movie with the kids. I earned this. Oh, and no post is complete without a sleeping baby picture. Enjoy!